Andris Lazdiņš is Co-Head of Dispute Resolution practice at Ellex in Latvia and the key contact regarding white-collar crime and AML/CTPF. Andris assists clients both as victims and accused persons in white-collar crime cases before the courts and investigative authorities, especially in respect of cases concerning money laundering, proceeds of crime, internet fraud and the criminal liability of legal entities and their senior management.
Andris advises domestic and foreign clients, specializing in dispute resolution. He also assists clients in litigation in civil administrative and criminal cases and white-collar crime matters. He regularly advises clients in complex employment disputes, including investigation into the illegal activities of managers and employees in local companies.
Andris is the author of various publications regarding dispute resolution matters and is frequently invited as a speaker in public seminars and conferences. He is actively involved in the Foreign Investors' Council in Latvia (FICIL) and is the Co-Head of the Anti corruption, economic crime and shadow economy work group.
Andris Lazdiņš shows real interest about our situations and cases; possess business thinking. He is responsive and reacts quickly. It all together makes very valuable combination for our business. He definitely provides exceptional service.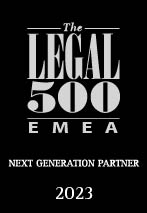 2018
Riga Graduate Schoool of Law
LL.M. in Law & Finance, degree with distinction
2010
University of Latvia
Master of Laws (LL.M.)
2008
University of Latvia
Bachelor of Laws (LL.B.)
Latvian Council of Sworn Advocates
Member of the Supervisory and Control Commission

Latvian Bar Association
Member
International Bar Association (IBA)
Member
The Foreign Investors' Council in Latvia (FICIL)
Member
Co-head of Anti corruption, economic crime and shadow economy work group
The Young Arbitrators Forum of the International Chamber of Commerce (ICC YAF)
Member
Student fraternity Selonija in Riga
Member
2022
White Collar Crime Laws and Regulations in Latvia
CEE Legal Matters, 16.06.2022.

Ellex in Latvia was invited to be the exclusive country contributor to the CEE Legal Matters Comparative Legal Guide: White Collar Crime 2022 for Latvia. The information was prepared by Ellex Associate partner Andris Lazdins and Associate Kristers Losans.
2020
WSG Global COVID-19 Task Force & Resource Center
World Services Group, April 2020

Due to the Covid-19 situation across the world, the international resource organization World Services Group has launched a Global Task Force and Resource Center with experts from several different jurisdictions to advise and guide during these uncertain times. As an active member of this network, Ellex lawyers in Latvia are the main contact with questions concerning Latvian law.
2020
AML country guide for Latvia
Thomson Reuters, April 2020

This article provides an overview regarding Anti-money laundering (AML) legal framework in Latvia prepared by associate partners Valters Diure and Andris Lazdiņš.
2019
Doing Business 2019: Training for Reform
World Bank Group, January 2019

Ellex team in Latvia has had a long-lasting cooperation with The World Bank contributing to the report "Doing Business" annually.

Doing Business 2019 is the 16th in a series of annual reports investigating the regulations that enhance business activity and those that constrain it. The report provides quantitative indicators covering 11 areas of the business environment in 190 economies. Ellex experts in Latvia Daiga Zivtiņa, Irina Kostina, Anete Dimitrovska, Andris Lazdiņš and Valters Diure are contributors of the Latvia chapter of the report.

The goal of the Doing Business series is to provide objective data for use by governments in designing sound business regulatory policies and to encourage research on the important dimensions of the regulatory environment for firms.
2015
Experts Review - Briefly on Criminal Liability of Companies in Latvia
CEE Legal Matters, April 2015
Publication by Daiga Zivtiņa and Andris Lazdiņš.