Bloomberg 1Q 2020: Ellex advised on the most deals among Baltic law firms
Bloomberg, an international leading business and financial news agency, has announced the top legal advisors in 1Q 2020 in its Global M&A Market Review.
The rankings indicate the most active M&A legal market players during the period from January to March 2020. According to the results, Ellex holds the dominant position among Baltic law firms by having advised on 10 deals.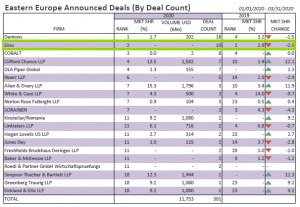 The Bloomberg M&A report delivers the latest data on the M&A market and provides a global perspective and local insight into unique deal structures in various markets through a network of over 800 financial and legal advisory firms, ensuring an accurate reflection of key market trends. The league table rankings are a leading benchmark for legal and financial advisory performance.