Bloomberg 2021: Ellex leads the Baltic M&A market by deal count
Ellex leads the Baltic M&A market and holds the second position in Eastern Europe with 47 deals credited by Bloomberg within this particular market during 2021.
According to Bloomberg's global M&A market review legal rankings, Ellex holds the leading position in the Baltics and is the second-best legal advisor in Eastern Europe following Dentons Group.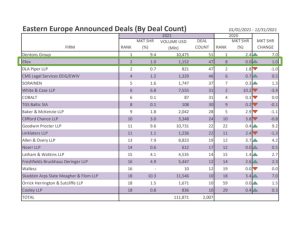 Some of the 2021 deal highlights include:
Bloomberg is an international leading business and financial news agency. Bloomberg M&A delivers real-time coverage of the M&A market from nine countries around the world. They provide a global perspective and local insight into unique deal structures in various markets through a network of over 800 financial and legal advisory firms, ensuring an accurate reflection of key market trends. Their quarterly league table rankings are a leading benchmark for legal and financial advisory performance.
To view the Global M&A Market Review Legal Rankings 2021, please click here.