Ellex ranks #1 in Bloomberg's Global M&A Market Review H1 2022
Ellex leads the Baltic M&A market and holds the dominant position in Eastern Europe with 20 deals credited by Bloomberg.
According to Bloomberg, an international leading business and financial news agency, Ellex holds the leading position in Eastern Europe, followed by international law firms: CMS, Dentons, and Baker McKenzie.
In addition, Ellex is honoured to be the highest ranked Baltic law firm in the Nordics deal table as well.
Bloomberg's Global M&A Market Review rankings indicate the most active M&A legal market players and are based on announced transactions from January 1, 2022, to June 30, 2022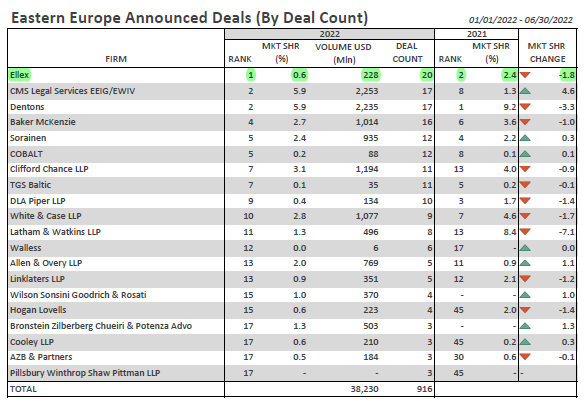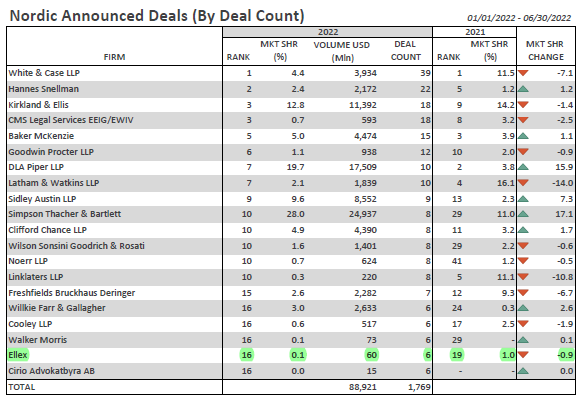 Furthermore, Bloomberg is not the only dealwatchers' company that confirms Ellex's dominant position among M&A legal advisers. According to the results recently published by Refinitiv, Ellex leads the Eastern European M&A market by deal count in the Mid-market and the Small-cap market segments. Legal advisory legal tables represent data for the first half of 2022.
The Bloomberg M&A report delivers the latest data on the M&A market and provides a global perspective and local insight into unique deal structures in various markets through a network of over 800 financial and legal advisory firms, ensuring an accurate reflection of key market trends. The league table rankings are a leading benchmark for legal and financial advisory performance.
To view the Global M&A Market Review H1 2022, please click HERE.
Ellex experts advise on a wide range of matters related to public and private M&A with a particular focus on complex, cross-border transactions. Our team has advised on major deals locally and globally, both as independent advisors and by working closely with the leading European and Global law firms. More information about related projects and experts in this field can be found here.