Kantar Sifo Prospera 2020: Ellex is the No. 1 Strategic Speaking Partner according to clients
Clients see us as a business partner who envisions winning strategies and ensures legal excellence in execution for bigger success.
According to the recent survey "Tier 1 Law firm Review 2020" conducted in the Baltics, Ellex is the most valued strategic advisor in the Baltics, maintaining also the best level in service quality – legal excellence. In the local market, clients still value us for good reputation and being strong in all legal areas with the largest team in the Baltics, which ensures us the capacity to work with even the largest projects.
It is worth mentioned that according to the clients, we are at the forefront of digitization. "We used already digital solutions before the crisis period, today we have made our systems even more efficient and we are constantly looking for solutions to modernize and improve our service and work environment. We are flexible and innovative, but the annual clients survey gives us the input to develop even more our strategy and how to improve our service quality to the clients," commented Ants Nõmper, the managing partner of Ellex in Estonia.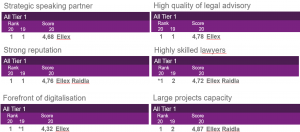 Source: Kantar Sifo Prospera
The "Tier 1 Law Firm Review" survey was conducted by telephone interviews by the independent Swedish market research company Kantar Sifo in October-November 2020. 301 Baltic organizations were interviewed. The respondents, general counsels and CEOs, were asked to name and rate top law firms in different legal competences and other performance areas.
This year, Ellex has also been honoured to receive the award Law Firm of the Year in all Baltic countries by Who´s Who Legal. In the virtual ceremony held on November 12, 2020, Who's Who Legal presented awards to the best law firms and lawyers in Europe, the Middle East and Africa.
"Ellex is honoured for the recognition of the best law firm in all three Baltic countries. This year has been challenging and required more effort than the previous year, so this is a recognition of exceptional work by all Ellex lawyers over the past year," says Ants Nõmper, the managing partner of Ellex in Estonia.
We are grateful to our loyal customers, partners and wonderful colleagues as these recognitions wouldn't be possible without you! Thank you and we will always do our best to be the best employer for our colleagues and an irreplaceable strategic partner for our clients!