Rūta Pumputienė's law firm joins Ellex in Lithuania
Rūta Pumputienė's law firm, a leader in the specialised field of life sciences and regulatory practice in the Baltics, joins the law firm Ellex Valiunas (Ellex in Lithuania). This strategic merger was driven by the priority of both firms for the development of the life sciences sector and a significantly increased need for pharmaceutical and life sciences law. With this partner and her team of exceptional expertise, Ellex Valiunas are further expanding their competence, size, and specialisation in this field of law.
Rūta Pumputienė, who became the 20th partner at Ellex Valiunas, is one of the most valued experts in life sciences, healthcare, biotechnology, and pharmaceutical law. She advises the world's largest biotechnology, pharmaceutical, and medical equipment companies in the Baltic states and beyond and is a co-author of many international publications on life sciences law. R. Pumputienė founded her law firm seven years ago and continuously works with market leaders in this field. Notably, Rūta had started her professional career at Ellex Valiunas, where she worked for ten years before opening her firm.
Together with R. Pumputienė, her team members, experienced lawyers Ieva Balėnė (life sciences law and other regulated industries), Giedrė Tubelytė (commercial, telecommunications, and information technologies) and Viktorija Kod (life sciences and other regulated industries) are also joining Ellex Valiunas.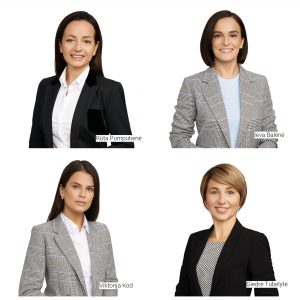 "The demand for life sciences has grown enormously in recent years as the pandemic made the world realise a long-term perspective in this area. We are glad that renowned brands in the life sciences market in Lithuania and globally trust Ellex Valiunas' legal services, so in these challenging times, we want to offer them an even higher level of legal expertise. Rūta and her colleagues have been leaders in the life sciences area for many years, and this merger of our firms will open new avenues for the industry planning additional business steps in the Baltics. But most importantly, our alumni are coming back. Rūta had contributed to Ellex's growth and strengthening for ten years, and while she was practicing elsewhere, we sincerely missed her," says Rolandas Valiūnas, the managing partner of Ellex Valiunas.
According to him, the merger of the law firms is undoubtedly a significant event in the legal market as the need for top-class specialists is constantly growing, and this partnership will ensure the highest quality services for the firm's clients.
After joining Ellex Valiunas, the team of R. Pumputienė's law firm will work together with highly commended lawyers of commerce, regulated industries, and life sciences: Dr. Jaunius Gumbis, Dr. Karolis Kačerauskas, Dovilė Greblikienė, Dr. Ąžuolas Čekanavičius, Miglė Petkevičienė, and others.
According to the attorney at law R. Pumputienė, the decision to join Ellex was prompted by the latter's special focus on the areas of law she represents.
"I am delighted that both my team and I will be able to continue our professional career in this field, only having even wider, bigger, more diverse, and more interesting opportunities with Ellex. The professional path must always advance and lead only forward. I believe that by sharing our knowledge, together we will be able to offer our clients and their projects the highest, exceptional expertise and quality, which is the aspiration and the main goal of us all," says Ellex Valiunas' new partner.
Both law firms are keen to promote social responsibility, pro bono, and social projects. For many years now, Ellex Valiunas' pro bono activities have been strategically focused on improving culture, social initiatives, education, and legal environment, and in recent years – on health initiatives as well. In 2020, the law firm actively assisted the healthcare institutions' charity fund Drauge įveiksim by collecting over EUR 732,000 for combating the coronavirus. R. Pumputienė is an active partner of the national initiative Auginu Lietuvą aimed at ensuring life priority at the state level. She is also the head of the Local American Working Group (LAWG) – a standing committee established under the American Chamber of Commerce in Lithuania representing global innovative pharmaceutical companies.
————————————-
Law firm Ellex Valiunas is part of Ellex, a circle of leading Baltic law firms, with over 200 legal professionals and 80 business support staff in Lithuania, Latvia, and Estonia. In Lithuania, the firm employs 102 lawyers and 52 business support staff – it is the largest law firm in the country.
In 2020, the prestigious law journal The Lawyer recognised Ellex as the best law firm in the Baltics, and in 2021 the same rating was given by Chambers Europe directory. According to client surveys, last year Ellex Valiunas was the clients' first choice by legal competencies.