Refinitiv Q3 2022: Ellex leads the Eastern European M&A market by deal count
Refinitiv has recently announced its M&A legal advisory rankings for the third quarter of 2022. Ellex has been ranked in three market segments: small-cap, mid-market and emerging markets.
According to the reviews, Ellex holds the leading position across all Eastern Europe by deal count (44 deals counted for Ellex in the small-cap segment, 46 deals in the mid-market segment and 46 deals in the emerging market segment).
The credited deal value of the Eastern European region for Ellex in the small-cap is US$ 153.1 million and in the mid-market segment – US$ 343.2 million.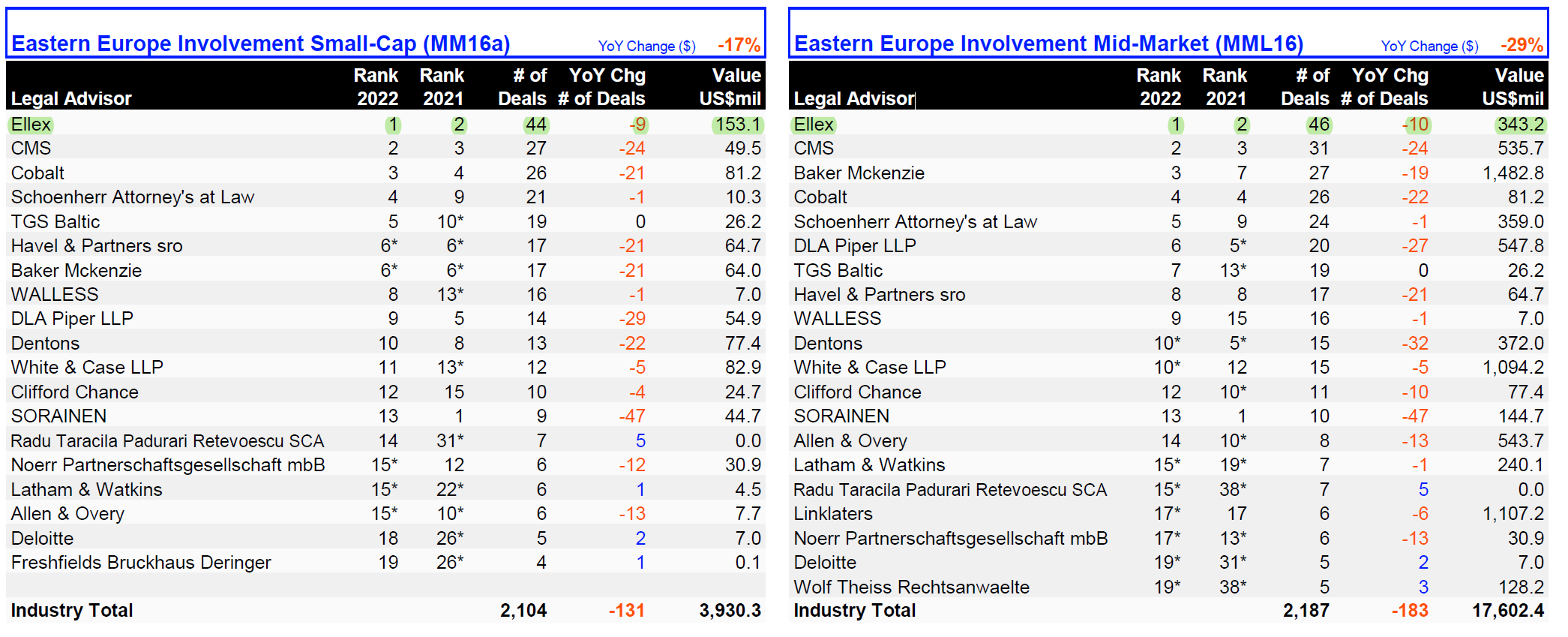 Ellex has also been included in the Nordic tables in both small-cap and mid-market segments, ranked 8th in the small-cap and 9th in the mid-market segment. It is a remarkable recognition to be the highest-ranked Baltic law firm among the most reputable Nordic law firms.
Some of our recent highlights in 2022 include advising:
Novator Partners LLP investment in Nord security.
Announced league tables include all deals that were announced between January 1, 2022 and September 30, 2022 and of which Refinitiv was made aware of. All current data and previous league tables include rank eligible mergers, acquisitions, repurchases, spin-offs, self-tenders, minority stake purchases and debt restructurings.
The overall results during the first nine months of 2022 show that global mid-market M&A deal values decreased by 21% compared to year-ago levels and is the slowest opening nine-month period for mid-market M&A since 2020. In addition, mid-market transactions during the third quarter decreased 20% compared to the second quarter of this year. Number of deals decreased by 16 % compared to a year ago.
Furthermore, worldwide small-cap M&A deal values decrease by 20% compared to a year ago while the number of deals decreased 15% compared to the first nine months of 2021, hitting a two-year low. Emerging markets deal making also falls 20% to two-year low.
More information on the latest global M&A market trends is available here:
Refinitiv rankings (formerly the Financial and Risk business of Thomson Reuters) are a recognition of the outstanding service provided by Ellex to its clients, which is based on our reputation and experience in the field built up over decades.
We advise on a wide range of matters related to public and private M&A with a particular focus on complex, cross-border transactions. Our experts have advised on major deals locally and globally, both as independent advisors and by working closely with the leading law firms in Europe and beyond. More information about related projects and experts in this field can be found here.