Prospera Tier 1 Law Firm Review 2023: Clients Rank Ellex No1 Law Firm in the Region
Kantar Prospera Tier 1 Baltic Law Firm Review 2023 shows that market expectations for lawyers in the Baltics continue to rise and Ellex is the law firm best placed to meet rising expectations this year. According to business leaders, Ellex is Tier 1 in the Baltics (Overall Performance).
The firm significantly outperforms other law firms in Lawyers' skills, Advisory, Project Staffing, Project Management, etc. categories, and absolutely surpasses market expectations in Large Projects and International competence according to interviewed clients.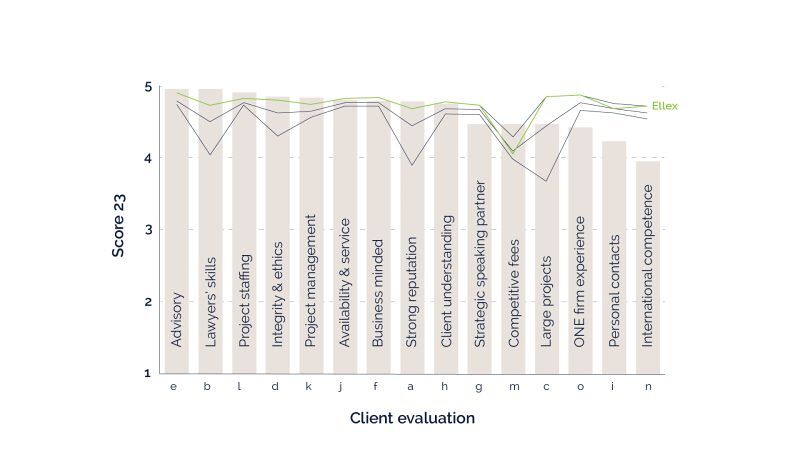 "At Ellex, we highly value our clients' willingness to recommend us to others, as it underscores the deep trust they have in our services," affirmed Ants Nõmper, managing partner at Ellex in Estonia. "However, we place even greater importance on their feedback. Their insights help us pinpoint our strengths and areas where we can enhance our performance. We sincerely appreciate the trust our clients have placed in us thus far and encourage each of them to continue sharing their feedback. We firmly believe in continuous growth and development, recognizing that success is attainable for those who embrace this philosophy."
"The outcomes of this study not only demonstrate our significant qualitative advancement in the market but also underscore the fact that our commitment to internal transformation and enhancement has once again elevated the legal industry's benchmark. It's reassuring to witness that, upon reviewing these results, we have indeed upheld our reputation as true market leaders that strive for excellence, continuously cultivate innovation, and embracing change for the better", says Rolandas Valiūnas, Ellex managing partner in Lithuania.
Over the past few years, the company has directed its attention towards enhancing client relationships through an ongoing evaluation process of Ellex's quality and a steadfast commitment to improving its uniform quality standards. All team members share the responsibility and are encouraged to proactively contribute to this endeavor. Additionally, the firm places significant investment in bolstering lawyers' understanding of business management and sector-specific knowledge, equipping the team to deliver solutions with a strong business focus. Furthermore, the company remains dedicated to expanding the team's legal competencies.
The survey reveals a shifting landscape in the perception of legal services industry by clients, indicating a positive trend as clients' expectations continue to rise. When comparing this year to the previous one, it is evident that the market leader has achieved a quantitative score (in "Overall Performance") that is 0.05 points higher on a scale of 5. Over the course of the last five years, there has been an increase of 0.12 points in the score. This upward trajectory signifies the collective industry-wide commitment to align with client expectations and enhance overall service quality.
In Kantar Prospera's survey, corporate and organizational representatives assess law firms in 15 different categories, as well as specific areas within business law. The overall rating, encompassing all these categories (referred to as "Overall Performance"), serves as the main measure of how market players are evaluated.
Kantar Prospera Tier 1 Baltic Law Firm Review covers 410 Baltic-based organisations that spend at least EUR 15,000 annually on outside legal help. In total, 55% of the respondents are top executives and a third are company lawyers and heads of legal departments. Ellex is taking part in this survey since 2015.