Kaisa Jakobsoo is a senior associate specialising in real estate, environment, planning, administrative law and dispute resolution.
Kaisa works on matters related to various stages of planning and represents clients in field-related disputes as well as in communication with various administrative authorities. She has profound experience in advising and representing clients in various environment-related disputes, including matters related to natural resources, nature conservation, mining and real estate development. Kaisa also has extensive experience in disputes related to wind energy, having advised clients on a number of landmark disputes in the field.
Kaisa has a BA and MA degree in law from the University of Tartu. She has been a former grantee of the Raidla and Partners Fund – a sub-fund of the Estonian National Culture Foundation.
Before joining Ellex in Estonia, Kaisa worked as a lawyer in the public sector.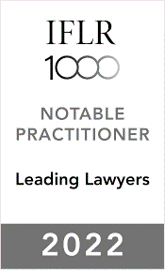 2014
University of Tartu, Estonia
Master of Laws (LL.M.)
2012
University of Tartu, Estonia
Bachelor of Laws (LL.B.)
2015
Estonian Bar Association